An Important Announcement For Cleaning Company Owners
Finally a Way To Market Your Cleaning Company Without Breaking the Bank
Learn how to double your business revenue in 12 months
Why do owners have trouble with marketing?
No idea how to do marketing

No marketing budget

Spending time and money on the wrong things

Don't have a good source for marketing advice
Did you answer yes to those statements above?
I get it. Quite a few years back, I was really struggling to get clients. It makes you feel hopeless. You don't know where to turn for help. I tried Youtube videos, and free e-books along with hours of reading blog posts and books about marketing. Still nothing, until I had a chance meeting with an experienced marketer who was already doing what I wanted to do.
He walked me through a simple but proven plan and showed me the ropes. Now it was still work but in just a few months I started seeing real progress. The clients were coming to me for once. I was literally jumping for joy and was able to sleep again. Your stress level goes way down when you see clients automatically reaching out to you. Already interested in your services, that is so much better than having to chase them down the street.
If you are stuck and struggling to get enough new clients, I can show you the solution that worked for me.
You'll have a constant stream of visitors to your website. You'll have people calling you and opting in to your email list of prospects to get your free report. Plus you'll be sending 5 emails to those people on your list. Each email selling your business and services over the next 2 weeks on autopilot. You will be all over social media. Most important, you won't be sitting around hoping for new business. As your client count goes up, your money worries disappear.
I help cleaning company owners just like you to:
Leverage the power of marketing, using time-tested methods of social media, email marketing, Google, Facebook and your own website to get more amazing clients 24/7 even on the weekend.

Get a great online presence so you attract more leads and grow.

Write exciting website copy that gets leads to happily sign up for your email list and call you to buy your services.

Get more 5 star reviews so you look even more like the cleaning company to hire first.
Which allows you to make more revenue, more profits and to have time to relax on the weekends. Imagine 96 more days for you to enjoy each year, with no business stress. You can happily enjoy more time with your family and maybe even have fun for a change.
As a next step, I recommend you download my free report below. It's the quick way to see my marketing strategy I run most businesses through.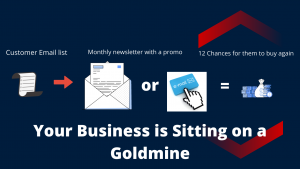 What's the Story of Marketing A Cleaning Business?
Let's dig deeper into why marketing your cleaning company is so important to your chances for success. Don't ignore marketing and become one of the 60% of new businesses who fail in year ONE.
Here are some common problems that face cleaning companies:
Can't find enough new clients

Not making enough profit to survive and grow

Can't find enough great employees

Working 24/7 on the business - NO quality family Time
If you get those problems solved you could have more family time, less stress and even a bigger bank account. You would be able to relax and enjoy life more. Get better sleep because you know you have recurring income coming in every month. Now you can take some time off if you feel like it. You started your business for freedom right?
With growth, your business can run itself for longer without you constantly working on marketing. If you set up a simple marketing plan, it runs automatically in the background sending you a constant stream of new leads who want a cleaning service. You'll have time to work on your business instead of doing all the work and running the business. You'll be able to hire more employees to do the work.
Cleaning company owners who can't find enough clients reach a cap to their income and get stuck at one level. And when they lose a client and can't quickly replace them, fall further behind.
Often they try to learn marketing and do it all themselves. This normally results in frustration, poor results and more stress. They can't even sleep well at night or take a day off without feeling guilty.
They wind up not knowing exactly how to market the business. Mistakes follow this path because it takes years to learn great marketing. You'll wipe yourself out trying to run your business and do all the marketing, while missing out on time with your family. That time is never replaced, it is gone forever.
Getting a system setup to market your business for you even when you are home sleeping on the weekend is valuable.
The right system attracts clients to you and you don't have to chase them. It becomes a machine that grows your business for you. Which equals bigger profits, bigger bank accounts and a bigger company that can thrive.
Not having enough clients is the main reason for new cleaning companies to go bankrupt. You have hundreds of competitors who want your clients.
Your marketing system will mean less worry and stress. Better home time and you'll be much happier knowing things are getting better. Plus if you get some marketing help, you won't have to learn how to market alone. You have a partner to help you market the business.
Marketing is reaching outside your immediate area or audience. Waiting for word of mouth referrals takes forever and is hoping for new clients. Finding a marketer to look at your business and find those unused opportunities to reach more people is valuable. Would you spend $1,000 to make $24,000? That's what marketing is like. It can easily get you $2,000 more in revenue each and every month. With just a handful of extra new clients a month, that is easily doable. How much would $24,000 mean to your business this year?
Ads, ads, ads? Marketing is more than ads; it has many layers. It's a well oiled time tested machine that gets more clients who want your services.
Have you ever felt like your business is stuck because you can't find enough clients? Like if you had more customers , all your problems would go away…
If only I had a way to get more clients things would be different…
The business would start growing

Profits would be filling your bank account

I could finally relax and spend time with the family

Employees would be take care of

Less stress and worries

Would finally feel successful and proud again

There would be time to make plans for the future

Goals would be achieved

I could finally get some great sleep at night

No more money problems
Owning a business is stressful on a good day. What would you give for just 10 minutes of much needed downtime? The anxiety can drive you crazy. You start to feel so alone and helpless. No matter how much your family cares, they just don't understand what you are going through. I understand, I have had plenty of business struggles over the years. The sleepless nights.
What is the leading cause of not getting enough clients?
Not knowing exactly what marketing is and how to do it. Most owners have never been taught online marketing. It is a different beast. They stumble around in the dark. Trying to copy what others are doing. They miss important details and don't see the whole picture.
You can waste years frustrated and stumbling around blind. Copying others is all owners know how to do. But the problem is most of them don't know what they are doing either.
That is really what is keeping you stuck. Trying to do all the marketing yourself.
There is hope for you, there is help available to quickly put together a new marketing plan with a proven system that sends a stream of desperate clients who want to buy your services. They are already looking for a cleaner. We just need to get your website in front of them.
We help cleaning companies get more clients without spending a fortune. A complete marketing plan that meets your budget.
Lead generation, website improvements, social media reputation and email marketing so your clients spend more with you!
Your Free Bonus tip to use immediately:
Send this email out to your clients
subject: A special thank you

"Thank you so much for being one of our valued clients.

Summer is over, let's get your house in tip top shape before the holiday season arrives. We have a special running right now for a one time Deep Cleaning at only $199.
Call to Book a Deep Cleaning spot on the calendar today."
~Shirley

Shirleys Cleaning Service - (425)672-8111

Find out how we can help you get more cleaning clients