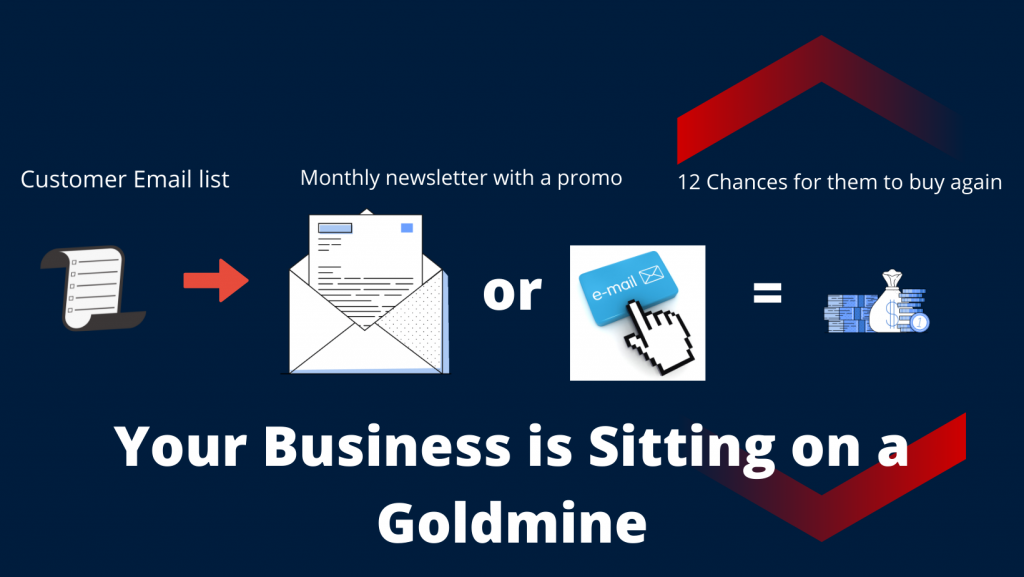 Do you have an email list?
Do you have an opt-in offer on your website?
90% of your website visitors leave and do nothing. An email opt-in can catch more of them before you lose them. Build an irresistible offer for them to grab and become a lead. Now you can email them every week to bring them back to your business.
It is a very easy system to set up and isn't too expensive. Companies that collect leads and email them, make 10x the profits.
Opt-in box offer on your webpage, front and center.
Thank you page that has a special offer and the download "freebie" you promised.
An auto-responder email service ($19/month) very inexpensive
Think of something free to giveaway (25% off voucher, a helpful report, a helpful video, coupon, etc.) You only need one.
Setup your auto-responder - write one "welcome/download here" email delivered instantly. Write one follow up email that asks for their feedback(delivered two days later)
Design an opt-in form with your auto-responder service
Add that form code to your website (popup, slider, sidebar)
That's basically all it takes. Maybe 2 hours and its set up. You can hire a designer to make a great opt-in form easily.
It will collect new leads 24/7 for a long, long time.
Then send that list a weekly or monthly helpful email newsletter(broadcast message).
Don't neglect building a list of leads and customers. The VALUE of your business is your Customer list. If someone wanted to buy your business, they would pay you based on how big your customer list is.