How To Get More Customers...
To Leave A Review...Without
Begging For One...
In Only 30 Days!
Attn: Owners who struggle to get enough reviews

Little known secret discovered by a "plumber" allows you to get 10X the number of reviews online... without having to ask over and over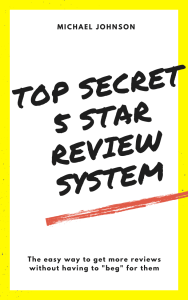 If you are struggling to get enough good reviews... and know not having enough makes you look bad... I want to share some amazing news...
A breakthrough new secret discovered by a plumber in Seattle can now make it EASY to get more reviews from your happy customers without having the uncomfortable "Please leave me a review" conversation.
Even more exciting, this breakthrough could even help...
SKYROCKET Your Business When Leads See An Additional 25... 50... Even 100 Five Star Reviews!
Imagine the look of surprise and envy on your competitor's face when they see how many awesome reviews you have.

No more struggling to get customers to leave you a nice review. They'll happily leave you a review if you make it super easy for them to do it.

No more feeling humiliated by your lack of reviews or even worse a Big, Bad review stuck at the top of your review page on Google or Yelp.

I'll explain more in just a minute.

But first, allow me to introduce myself.

My name is Michael Johnson. I've been marketing online for over 20 years. Today, I've transformed into a marketing consultant helping others grow their businesses.

One of the biggest problems marketing online is getting enough great reviews. Most people looking to buy something or spend money will first thing: Check your online reviews!

Bad reviews or hardly any reviews make you look bad today.

There is a very good chance you are struggling to get enough reviews and hate bringing it up to your customers.

You might be waiting years to see your review count go up naturally.

But you don't have to accept that.

And now, that wont be YOUR story.

Because thanks to this breakthrough in online reviews...
it's now entirely possible to virtually...
Guarantee They Will Leave You A Great Review And Put Your Reviews "On Steroids!"
But let me put any fears to rest. This isn't anything complicated or "tricky".
And it is pretty simple to put in place in a few days.
It's actually something you can easily incorporate into your regular routine.
And it's the most effective way I know to help get more reviews and look great online today.
But there is one thing...
When it comes to looking better online with this breakthrough new review secret...
There's no time to waste!
Whether you're already struggling with low reviews/bad reviews... or you simply want to keep up with your competition, it's VITAL you start today.

So please... make sure you read to the end of this short letter to discover the entire process for getting more reviews easily and without the pain of "begging for a review".

So let me share the secret with you right now...

It all begins with an amazing discovery by a plumber in Seattle.

I could go on and on about all the ways more reviews help your business grow. But there are much better things to talk about.

Namely...

What you can expect from this guide...

Because you'll be amazed once you experience these life-changing results for yourself.

Regularly getting a review from nearly every new customer of yours.

Looking better online every single week as your review count grows... Burying any poor reviews with lots of good ones!
But here's the MOST amazing part:

This system only requires two new webpages and one piece of paper to do. You only have to hand a piece of paper to your customer with their invoice.

No painful "Can you leave me a review?" Please, please...
75% of the time immediately!
That means, day after day, you can watch as your review count and your business reputation goes up... practically on autopilot.

It's time to take the fear out of getting good reviews with this guide.

Just a couple of simple webpages is all it takes. A better reputation can be just around the corner.

There's no describing the relief you'll feel knowing that all the power of this method is on your side...
So, are you ready to enjoy
"great reviews" right now?
That's why I'm so pleased to announce this breakthrough method is now available from my team of marketers at NotVanillaMedia.

I'm 100% confident that this guide will exceed your expectations when it comes to painlessly getting new reviews and looking better online for your business.

But I want YOU to be confident too. That's why I insist you have ZERO RISK when you try this method.

It's simple:

Try the method you learn in this guide and you will literally FEEL THE DIFFERENCE it can make in your business.

If you don't FEEL YOUR BUSINESS REPUTATION GETTING BETTER...

If you don't experience THE JOY OF GETTING EASY REVIEWS...

If you're not getting a steady stream of new reviews... watching the poor reviews disappearing from sight...

...we'll refund every single cent of your purchase price... no questions asked.

And just remember...
This method is only beginning to work its review getting wonders at 30 days.
It takes a little time for these amazing reviews to build your online reputation.

You'll enjoy better and better results as each month goes by, when you make this system part of your daily routine.

And don't forget... you're always protected by our ironclad guarantee. If at any point - whether it's your first month or your 10th - that you aren't 100% convinced this method isn't improving the number of reviews your getting...

...Simply email us for a full refund. No questions asked.

And this guarantee NEVER expires.

THAT is how confident I am that the review getting power of this method will change your business.
Now, there's one last thing:
This guide and method is ONLY available direct from NotVanillaMedia.

Other people have copied it but few have mastered it the way we have.

And when other businesses learn about how this method can increase your review counts like magic...

I expect to see everyone start using it

In fact, the sooner you put this method into action the better it will do for you and your profits.

Now is your chance to start enjoying easy reviews fast with this secret review getting method.

Just click the button below to get started right now - you'll be taken over to our secure order page.

You'll be able to review all your details before you checkout.

As soon as you get your download, open it right away.

Start putting this system into place so it can start working and getting you easy reviews.

Why wait even one more day to start when easy reviews are just ahead?

So stop suffering from constant anxiety, always worrying about your review count and business reputation...

Stop worrying that your review situation is only getting worse every week...

Instead, start feeling happy with the reviews your hard work is getting for your business. Without the painful "asking for a review" part.

That's the promise only this method can make. So let's get started now...

Order your guide today and FEEL THE DIFFERENCE it can make.

Remember, you have ZERO RISK when you order today.

Click the button below to get your guide now.


This little guide explains it all in 9 pages(quick) and shows you how to set up your own review-getter in a couple of days.

Anyone can do it.( you may have to watch some YouTube videos, if you get stuck) Someone somewhere already made the video.

More Reviews is a proven strategy to look better online and even rank higher in the search engines.

This system makes it easy on you and your customers...
You will never have to cringe while bringing up the "please, please leave me a review online" again.

It's a bargain price for the value you get, only $9.99 ... Specially reduced to FREE! For a limited time.

This is an easy reading 9 page PDF so you can be putting it in action in just minutes.

9 pages?? Could have filled it with fluff and unneeded information and written 50 pages but you know what, you probably just want the nuts and bolts without a 2 hour read. Right?
Just the facts... to get the job done fast and easy.
My coaching clients pay a ton of money to learn this secret review system, so don't miss out on your chance to get it for this tiny price. I keep this secret and rarely share it.

Why so cheap? To get this book in more peoples hands, that's why.

Look, I know you don't know me and might have trust issues going through your head right now. So it's priced at this shocking deal to get it into your hands in the hopes that you'll love it and want more of the products and services I offer.

So grab a copy before the price increases... Temporary Covid 19 Freebie only until I decide to charge for it again....

Click here to get your copy of "The Top Secret 5 Star Review System" now.

To your success,
Michael