"It's true. How To Stop Losing Jewelry Sales with Done-For-You Monthly Follow Up Newsletters!"
And Then Use Them To Create Happier Customers, Make More Profitable Repeat Sales, and Increase Profits & Cash Flow... Without Expensive Paid Ads!
From:
Michael Johnson
Date:
Thursday 8:30 am
For just $49, I'm confident I can increase your sales and profits with these fantastic Jewelry Store newsletters. It's simple, make a few tweaks to personalize them to your store and mail/email them each month. There is no need to struggle with what to write.
These PLR (private label rights) pre-written newsletters take all the work out of sending monthly customer newsletters that remind them to come back again and again.
I'm certain sending monthly newsletters to your buyers list will result in a lot of extra sales. Sales you are losing to other jewelers right now. Building better relationships is the key to future profits. Keep your customers with these easy to do reminders.
If I can't deliver on this promise…
I Will Give You

ALL

Your Money Back!
When you invest in this PLR newsletter pack called
"The 2-Hour Jewelry Store Follow Up Newsletter"
, you'll discover…
The easiest way to send monthly newsletters to keep customers returning.
12 done-for-you pre-written newsletters. Enough for the whole year. (a $120 Value)
More profitable repeat sales. Back-end sales are where the profits lie.
More customers in the store without advertising.
The fastest way to get newsletters in the mail.
Newsletters are Easy Marketing
Write... Print... Mail... One Day a Month... Done!
The hardest part is the writing and we've got you covered.
Added Bonus: 4 More Issues for a Total of 16!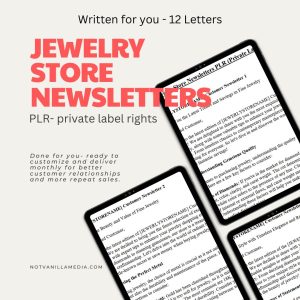 What You Need To Do Now
Get your 16-newsletter pack for only $49
by clicking on the button below.
You'll be taken to the order page where you input your payment details. As soon as you fill out the form and click the buy button, you'll be taken to a thank you page where you can
instantly download your newsletter pack.
This product is delivered in PDF format, and you can access it on any device, anywhere.
Your Price Today: Just $49
And It Comes with This 30-Day "No Questions Asked" Priority Guarantee!
If you don't love these newsletters within the next 30 days, I demand you fire me from your business and you get your refund. But I'm confident you'll stay in, you'll implement this follow up system, and you'll send us a testimonial telling us how much more you've accomplished after finding us and our PLR newsletters.
The 2-Hour Jewelry Store Follow Up Newsletter Order Form

YES! I want to add newsletter follow up to boost my business.

I understand I will be billed $49 today to receive immediate access to the "2-Hour Follow Up Newsletter" Including PLR rights.
I will receive instant access to download this newsletter pack (PDF) 24 hours a day from anywhere in the world
I can refund for any reason or no reason whatsoever within the next 30 days

Buy Now: Regular Price: $99 Just $49
P.S. Order today to get this Super Deal. This introductory pricing will increase soon. If you put it off and come back later you might miss this offer.
After signing up, you will be able to download instantly and you will be ready to copy and paste these newsletters, add your personal info and a couple quick paragraphs to make these newsletters your own in the next few minutes.
*
PLR (private label rights)
gives you full license to change, edit, rewrite, or send these to your customers as is. Feel free to personalize and customize them however you'd like.
Your Satisfaction Guaranteed
-
You have an entire 30-days to try them out and if you aren't thrilled, simply email us and you'll get every penny of your purchase price back.