"It's True. Unlock the Secrets to Irresistible Jewelry Store Promotions!"
In This 100% FREE Cheat Sheet You'll Discover...
Proven jewelry store promo ideas that will set your business apart from the competition.
Increase customer engagement, sales, and brand loyalty with irresistible promotional strategies.
Learn how to create a buzz around your store and attract a steady stream of eager customers.
And more!
Are you struggling to attract customers and boost sales for your jewelry store? Do you find it challenging to come up with unique and engaging promotions that captivate your audience? Look no further! We have the solution you've been searching for.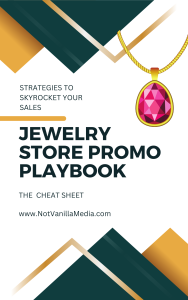 Register Below Right Now to Claim the Jewelry Store Promo Playbook: Strategies to Skyrocket Your Sales
Enter Your First Name and Primary Email to Claim Your Copy...

Fill out the form below and you'll immediately receive this training to start making more sales every month.