Let me tell you a secret...
If you're struggling to grow your business...

You are Missing Something!

Some part of your marketing plan is not performing for you.

What you are presently spending time and money on isn't working.
You are making some kind of mistake and don't even know it.

I know you are trying but there is something you don't have set up correctly for 2022. Not everything you try will work for your specific business. It's not your fault. What you have done previously just isn't working so it is time to find new ways, strategies and methods.

It could be something simple.

That fixes things for your business.

You need fresh eyes to look at what you are doing to find new solutions that will get you results. Doing all your own marketing is difficult because you are too close to your stuff. You get blinders on and don't see what is right in front of you. Fresh eyes from an experienced marketer will notice different things than you do. Many times, in just a few minutes, they will spot your mistakes or missed opportunities.

I offer a fresh look at your business, products and marketing process. We can take a simple and easy deep dive during a one hour Growth Discovery Session over the phone or zoom. This is not a sales call, we are going to get some good work done right away. And you'll come away with an actual plan you can put into action and get more sales, leads and profits.

Not a simple chit-chat trying to get you to buy something. We will ask you questions to find out what you have done, are doing and want to do. We'll look at your stats and rankings to see how to improve the results you get. We'll look at your website and how it converts leads into customers.

A lot of agencies and consultants offer free Discovery calls(hidden sales call.) They don't give you really useful stuff until you sign a contract. It's just to get you on the phone for the real close. I bet you have been on a couple of them before.

This is not a free call that just tries to sell you something.

You pay for my Discovery Growth session. This is the best way to start working with me, I no longer give free information or work away. My secret proven strategies are not going to be on my website for Google to grab. Only paying clients get access to my secret methods.
You pay for my time and work on the call so you will get my very best information and ideas. Whether you want to do it yourself or hire me for some help, it doesn't matter to me. You already paid me. I will give you my attention, time and energy to design a proven marketing plan for you.

The whole point is to move your business forward as quickly as possible. You will have actionable strategies you can start working on immediately.

-More sales
-More profits
-More leads

You're probably wondering how much this helpful Growth session costs...

Not very much at all for something that can mean $1,000's, even $10,000's to your bottom line for years to come.

The fee of your one hour Discovery Growth Session is only $297. (one-time)

I have a few openings right now for Growth sessions and would like to fill them as soon as possible.

Today, I am giving you a valuable coupon for...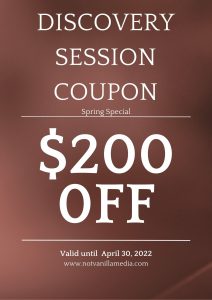 You will only pay $97 today when you sign up at this special link

Click the buy now button below

You'll be taken to a checkout page to complete your payment. And then be taken to a simple application form to enter your information and book your Discovery session on the calendar.

As soon as I get your payment and application, I will start looking at your website and online reputation to see what we could do first. Next, I will get in touch via email to get us started.

When we get on the Discovery Growth Session, I will run you through my proven Discovery Process(checklist) and we will take a deep look at your business and marketing to find the hidden profits you have available. It will give you new options and new ideas to grow as fast as possible. I don't limit things to the online world, there are offline methods that can work even better today.

For the zoom call, you'll want to be at a computer so we can look at things together. We might make some changes right away during the call.

I look forward to hearing from you.

Let's get this thing started now...
P.S. If we both decide to work together in the future, your Discovery Fee will be applied towards your first billing, so you get the Discovery for FREE.