Social Media Marketing Secrets for the Local Business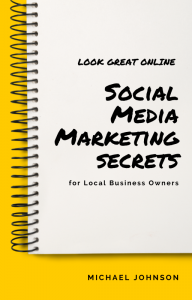 This guide is quick and easy to read and put into action. If you are still wondering the best ways to use Social Media for your business, you'll discover some proven ways to get results without spending hours and hours of your limited time and spending a fortune on ads.
Here are some of the benefits for
Make it Personal
Let your customers interact painlessly in a low sales way.

Increase communication
Share value content
Tips and tricks
Ask them what they want or need

Collect testimonials
and social proof from your happy customers

Boost brand awareness
Just be present so you look like a real caring business who is there to help.

Become the authority
Show off what you know and how you can help

Learn about your customers
It gives you a way to visit with your customers without being a pushy salesman. You can ask them questions and get them talking.

Target your market
You can reach your ideal customers where they hang out daily
Join neighborhood groups and pages

Improvement of SEO
Yes, the search engines love social profiles and it makes you look more real to them, so they will move your business up in the search rankings.
Just adding 3 social profiles can move a new site higher fast.

Save your marketing budget
Talking on social media doesn't have to cost a thing except time.
Social Media Marketing vs. Social Media Advertising
Top 9 Benefits of Social Media Marketing
Make it Personal
Increase communication
Collect testimonials
Boost brand awareness
Become the authority
Learn about your customers
Target your market
Improvement of SEO
Save your marketing budget
What Businesses Should Be Using Social Media Marketing
Choosing a Social Media Site
Determine where your audience is
Determine what type of content you'll be creating
Matching Your Goals and Audience with a Platform
Facebook
Twitter
LinkedIn
Pinterest
Instagram
YouTube

The Best of the Rest
Google+
Snapchat
Flickr
Reddit
Tumblr
Social Media Marketing Tips
You can download your copy of the "Social Media Marketing Secrets for the Local Business" instantly and at the bargain low price of only $9.99. Now Reduced to FREE. Instant Download (PDF)

Get your copy before the price increases.
Learn these secrets and put the power of Social Media to good use. We don't have to like Zuckerberg to take advantage of the good things.
Click the Buy Now link below to grab your FREE copy.