Social Media Marketing - 25 Things You Need To Know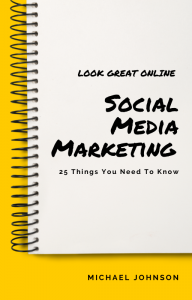 This guide let's you in on the real ways to use social media to actually get great results quicker, easier and cheaper. Get the answers to all of the questions listed below...

Table of Contents

About the Author 5
What does social media marketing mean? 7
How is social media marketing different from search engine
marketing? 8
Do I really need social media marketing? 9
Which social media platforms should my business have a presence
on? 11
Should I follow everyone? 12
How do I get more followers? 13
What should I post? 14
How often should I post? 15
Should I pay for social media advertising? 17
How to measure ROI in social media? 18
How long will it take before I start seeing results? 20
Can I repost the same content to different social media networks?
21
What time should I post? 23
I want to promote my company on social media and am planning a
lot of promotional content. Is that okay? 25
What images should I use? 27
Do my social media handles have to be consistent? 28
How can social media affect SEO? 30

What are influencers? And how can I get them to help? 31
What are hashtags, and should I be using them? 33
How should I handle negative comments on social media? 34
Do I need a blog for social media marketing to work? 36
Do I need an editorial calendar? 37
Do I need a social media management tool? 39
Do I need an SMM manager? 40
What are the biggest mistakes in social media marketing I should
avoid? 42
Next Steps 46

Click the Buy Now link below to get a copy of this 45 page PDF instantly...

For only $9.99. Reduced to FREE

This guide has some great answers and will solve your social media problem. You get a complete social media plan that will get you noticed online.
Get your copy Now